Balanced Diet Plan for Heart Disease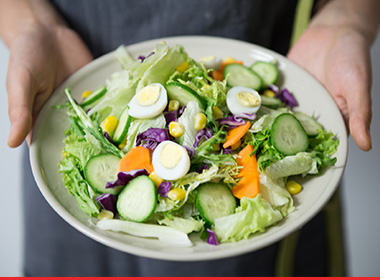 Eating healthy foods will help you recover and reduce your risk of more heart problems.
Drink mainly water. Avoid sugar-sweetened drinks.
Eat vegetables, whole grains, fruit, nuts and seeds every day.
Choose reduced fat milk, cheese and yoghurt.
Limit fried or baked foods, especially chips, biscuits, cakes and other baked cereal products.
Avoid adding salt to food. Choose 'no added salt', 'low-salt' foods where possible.
Aim for two to three serves of fish and seafood per week.
Too much alcohol increases your risk of more heart problems.
Helping Loved Ones With Heart Disease Eat Right
| Time | Meal | Menu | Quantity |
| --- | --- | --- | --- |
| 7.00 AM | Early Morning | Warm water with 1/2 teaspoon Cumin seeds | 2 glass |
| 7.30 AM | Morning Meal | skimmed milk (cow's milk) | 1 glass |
| 8.30 AM | Breakfast | Oats, Upma | 1 |
| 11.00 AM | Mid Meal | Fruit(Apple, Orange, Cantaloupe, Watermelon, Guava, Kiwi) | 1 |
| 1.30 PM | Lunch | Cucumber, Phulka, Mixed vegetable, Dal, brown rice | 1 |
| 4.30 PM | Snacks | Fruit/Garlic Khakra | 1 |
| 7.30 PM | Dinner | Same as Lunch | 1 |
| Foods to Include | Foods to Avoid |
| --- | --- |
| Raw whole fruits, vegetables, green vegetables, oats, whole grains, pulses, almonds, walnuts, skimmed milk, egg white, lean chicken, lean fish etc. | Fruit juices with sugar, sweets, fried food, processed food, packed foods, butter, margarine, cream, mayonnaise, mutton, meat, fried chicken etc. |